5 Ways Route Accounting Software Can Help You Stand Out in Bread and Bakery Distribution
Posted on: June 7, 2021
Posted by: Admin
The bread and bakery industry has been experiencing steady growth due to the rise in demand for bakery products. Due to the increasing influence of foreign culture and fluctuating eating habits, people have begun to prefer readymade bakery food for consumption.
The following statistics elaborates on the same. As a result of this demand, the global bakery product market size is expected to grow at a CAGR of 3.2% from 2019 to 2025.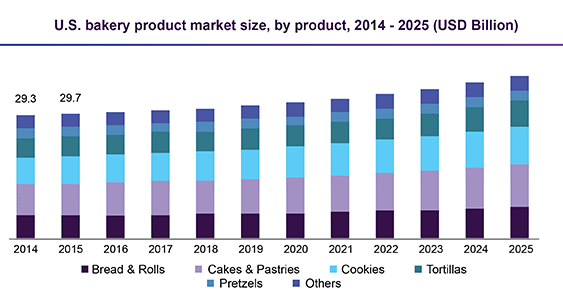 However, this industry heavily depends on the competency of the bakery distribution process. For example, if there is a consistent delay in the distribution of products and bakery retailers experience empty shelves or an overload of products, it may hit hard on your sales opportunities.
So, as we understand, the bread and bakery distribution industry is extremely time-bound. It is important that you, as a distributor of bakery products, provide the right amount of products, with the appropriate shelf life, on time. This helps reflect your bakery distribution company as a reliable and trustworthy one.
On the other side, you also need to consider other aspects like your investments. This includes the fuel costs, labor costs, and maintenance at regular intervals.
So, how do you strike the productive balance between running a profitable bakery distribution company while meeting the demands of your customers (bakery retailers)?
Here is where a next-gen bakery inventory management system like the bMobile accounting software helps.
Let's delve more into the intricacies.
What Is a Route Accounting Software?
A route accounting software focuses on the various facets of product delivery including accounting, invoicing, billing, returns, and route optimization.
Therefore, when you adopt a state-of-the-art route accounting software like bMobile route software, you can rest assured that your end-to-end product delivery is completely taken charge of.
With this information, here are a few ways your route accounting software can help you stand out in the bread and bakery distribution industry.
1. Improves Customer Satisfaction
Customer satisfaction is of paramount importance. When products of the desired quality are delivered on time, your customers are automatically satisfied.
How can bMobile route accounting software help you accomplish this? This bakery order management software enables you to obtain a holistic view of all the available routes to reach a particular destination. You are free to choose the best possible route to reach the customer. Furthermore, you can add/remove stops in the selected route. This enables you to cover maximum customers in a single route.
These capabilities help you to serve the maximum possible customers in the shortest possible time. This ensures timely delivery of products in their best condition, thereby resulting in satisfied customers.
2. Boosts Profitability
As mentioned in the previous point, route accounting software provides the shortest route to reach your customer. This not just saves time but also slashes down your fuel costs.
Furthermore, the individual load lists of every route are tracked and generated automatically from the route accounting software. As and when the delivery is done, the status of the inventory is updated. This is done throughout the day, across shifts, and in all the routes.
This way a complete view of the inventory status is obtained. Moreover, returns, episodes of spoilt/damaged products are duly accounted for. When these updates are done in real-time, you get a complete picture of deliveries that have happened. You can cut on losses and accurately balance stock for future deliveries. This ensures and boosts profitability.
3. Reduces Costs
When the shortest route is selected to reach your customer and real-time updates feed your inventory status, the cost of fuel, wastage, and labor are drastically controlled.
Deliveries are done on time and customers are happy. So, instances of returns and refunds are reduced. The rate of customer acquisition increases. With the liberty to add/remove customer points throughout the route, your delivery staff can cover the maximum number of customers in the shortest time. This saves time and effort.
Furthermore, appropriate inventory control results in better prediction of products, thereby reducing costs on wastage of products.
4. Enhances Control on Field Activities
The communication flow between field and administrative staff must be bridged in a bread and bakery distribution chain.
This helps the field staff to be more accountable and enables them to make changes in real-time. This saves the administrative staff from re-keying information. Manual errors are eliminated and accurate information is preserved. Also, it opens opportunities for the field staff to upsell/cross-sell their products.
For example, if a customer wants to add another product at the time of delivery, instead of directing the customer to place the order again and wait for the product delivery, the bakery ordering software allows the field staff to obtain the payment and process the customer request spontaneously. Details about the additional number of stock units, inventory report, and payment details are automatically updated.
This visibility and control of processes help improve the efficiency of the delivery processes.
5. Shortens Billing Cycles
Bakery delivery software can simplify and shorten the time consumed by conventional billing cycles. The delivery staff can get the acknowledgment on any of the mobile devices and provide an e-invoice on the spot.
bMobile route accounting software also allows mobile printing and barcode scanning. That is payment can either be done online or by simply scanning the barcode provided by the delivery staff.
This eliminates the need for the administration to work on paper invoices, key the details, and send it to the customer. It reduces errors and the turnaround time consumed by the billing cycle.
Wrap Up
The bread and bakery distribution industry are highly sensitive and the slightest error may hit hard on your reputation. Spoilt/expired products, delayed delivery, and an overdose of products can leave your customers unhappy. Therefore, you should be able to meet your customer expectations while controlling your costs. Implementing route accounting software can serve this purpose and optimize your routes for you to reap maximum benefits.
Please do contact us if you want to explore bMobile's route accounting software in detail.
Recent Blog Posts
Share This Post